WebTitan Cloud makes ISP web filtering quick and easy. Point your DNS to the WebTitan servers and you can be filtering the Internet in less than 2 minutes.
For ISPs and MSPs requiring highly effective Internet filtering to protect clients against web-borne threats, the WebTitan ISP web filtering solution allows you to protect both your network and your clients´ networks by carefully controlling access to web content.
Having highly granular controls, WebTitan offers real-time URL filtering of over 500 million websites and 6 billion web pages in 200 languages using a wide range of predefined and customizable categories. Our ISP web filtering solution provides100% coverage of the Alexa 1 million most visited websites and supports whitelists and blacklists to control access by website address, IP address, or individual URL.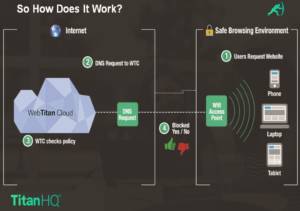 With ISP web filtering from WebTitan, it is simple to enforce tailored Internet usage policies per client in a cost effective way. Clients are able to generate more than 50 pre-defined reports and view Internet browsing activity in real time. Reports can be scheduled and exported in multiple formats while our cloud-based look up and real-time website classification system provides an unmatched combination of coverage, accuracy, and flexibility.
Our ISP web filtering solution can be provided as a white label product, allowing web filtering-as-a-service to be offered to clients. WebTitan Cloud comes with the choice of hosting on our own servers or in a private cloud. Alternatively, you can host WebTitan within your own infrastructure if preferred.
WebTitan Cloud is a multi-tenant solution that is quick and easy to configure for multiple domains. New client accounts can be configured in around 20 minutes. Managing accounts is a straightforward task requiring no technical knowhow and the intuitive web-based interface can be accessed from any location and is exceptionally easy to use.

WebTitan Cloud is API-driven to allow integration with existing customer deployment, billing and management tools.
ISP web filtering can be offered as a service to your clients
Improve network performance:Benefit from no latency DNS filtering and control Internet use to reduce bandwidth wastage and abuse.
Protection from web-borne threats: Prevent the downloading of malware, ransomware, Spyware, and viruses and protect against web spam, botnets, and phishing attacks.
Full reporting suite:WebTitan Cloud contains a comprehensive reporting suite providing more than fifty automated graphical usage reports for the real-time viewing of Internet activity.
Fully automated updating:All software updates, URL category updates, and management reports are automated, thus requiring the lowest possible management overhead, while ensuring maximum security for all users.
Whitelists and Blacklists:Global whitelists, blacklists, and custom categories can be configured to allow/block by full website address, IP address, or individual URLs.
Bypass filterswith cloud keys: Allow clients, individuals, and/or user groups to access blocked sites. Set cloud keys by time and date for maximum control.
White labelling: RebrandWebTitan Cloud with your corporate logo and color scheme and resell it as a hosted service add-on for your clients.
Download the TitanHQ MSP Program Brochure
If you are interested in providing a robust and reliable web filtering solution for your clients, download our brochure to find out more about the TitanHQ MSP Program. This program has been developed over many years as a result of our ambition to understand the demands and challenges faced by Managed Services Providers targeting the SMB marketplace.
The brochure includes a comprehensive selection of benefits associated with being a WebTitan reseller, and verifiable client feedback from MSPs already providing our service to their clients. We also provide information on how you can demonstrate the value of WebTitan to your clients in less than fourteen days - for free if you take advantage of our free trial offer.
The brochure also explains how MSPs thinking of taking their affiliation with TitanHQ a little further can become a TitanHQ Certified Partner and receive one-to-one training from our Sales Engineers. For further details on this opportunity, or for further information about the TitanHQ MSP Affiliate Program, speak with our MSP Program Director Conor Madden on +1 813 304 2544.
Free PDF Download
WebTitan MSP Program
Related reading:
Security is the fastest growing service for MSPs
White Label Web Content Filter