Web filtering is practically becoming a necessity for SMBs offering Internet access to their customers, so a DNS filter for managed service providers can be an easy way to attract new business, increase cash flow, and offer a more comprehensive range of Internet services to clients.
Web filtering can be provided to clients as an add-on service to ensure their customers benefit from safe and secure Internet access, while reducing legal risk by limiting access to inappropriate website content. With WebTitan Cloud it is not necessary to become an ISP to start offering web filtering solutions to clients. Our standalone web filtering solutions can be easily deployed by any MSP.
Our solution – called WebTitan Cloud – is a custom-designed DNS filter for managed service providers that can be deployed rapidly, requires little management overhead, and offers the flexibility to make it suitable for clients of all sizes – from small businesses to global corporations.
How a DNS Internet Filter for Managed Service Providers Can Improve Cash Flow
Our DNS Internet filter for managed service providers can be provided to existing clients as an add-on service to protect their networks from malware and ransomware attacks.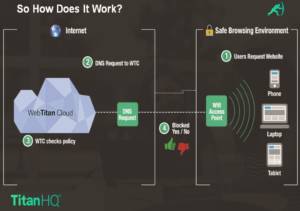 Malware and ransomware have long been a problem, and the risk of an attack is now greater than ever before. 2015 saw a 50% increase in new malware discoveries, while ransomware attacks have also increased in frequency. SMBs that have not yet started filtering the Internet are placing their customers, and their network, at an increased risk of attack. WebTitan Cloud can greatly improve a company's security posture by blocking access to malicious websites and preventing malicious file downloads.
Many SMBs have already realized that the provision of unfiltered Internet access carries too many risks and have already implemented a web filtering solution. However, our competitive pricing policy allows MSPs to offer clients considerable savings.
With demand for web filtering solutions high, our DNS Internet filter for managed service providers can be used to increase revenue from existing clients as well increase the appeal of existing packages to capture new business.
Simple but Powerful DNS Filtering for Managed Service Providers
Many companies offer DNS filtering for managed service providers, but all too often products are not tailored to the specific needs of MSPs. We believe that filtering the Internet should be affordable for all businesses, but understand that MSPs also want to enjoy good margins. We feel that our web filtering solutions strike the right balance.
We understand that managed service providers need to have new products that they can seamlessly integrate into their portfolio of products. This is why we offer WebTitan Cloud as a white label web filtering solution with a range of hosting options.
For ease of incorporation, we offer DNS filtering for managed service providers with multiple APIs to integrate easily with existing billing, monitoring, and auto-provisioning systems. If there are any issues with integration, our clients benefit from industry leading support. Our customer support team is on hand to make sure that all problems are rapidly resolved.
Key Features of Our DNS Filter for Managed Service Providers
WebTitan Cloud and WebTitan Cloud for WiFi are feature-rich web filtering solutions ideally suited to MSPs
Our products offer:
Real-time web filtering with no latency
Multiple APIs for ease of integration
An intuitive web-based control panel for managing all client accounts
Antivirus, malware, spyware, and adware protection
Pre-defined filtering categories for rapid configuration
Keyword-based filtering options
Time-based rules to restrict access to content at certain times of the day
Integration with LDAP and Active Directory
Whitelist and blacklist support
Support for clients with dynamic or static IPs
Support for all devices – desktops, laptops, notebooks, smartphones, and tablets
Multiple hosting options
WebTitan Cloud is:
Quick and Easy to Install
Our DNS filter for managed service providers requires no additional hardware nor software installations. Initial deployment is straightforward, only requiring a quick change to DNS settings to point to our servers. Once configured, each new client account takes just 20 minutes to set up.
Easy to Configure and Manage
If a DNS filter for managed service providers requires extensive management, the potential to increase revenue will be limited. WebTitan allows quick account configuration. Internet usage policies can be applied using pre-defined and customizable categories, and blacklists and whitelists can be quickly and easily uploaded.
Scalable
We appreciate that it's not always easy to plan usage requirements, but a sudden influx of customers is no problem. If it is necessary to move up to a new license band, a call to our support team is all that is required. We will even refund any unused portions of your current license. Our DNS filter for managed service providers has no restriction on bandwidth, and can be used for hundreds of thousands of users with no limit placed on capacity.
Kept Fully Updated With No User Input
Our DNS filter for managed service providers is automatically updated without any input by the end user or MSP. There are no patches to install, no firmware upgrades, and no need to configure new URL categories. All updates are automatically applied without any downtime.
Available as a White Label Product
One of the main benefits of our DNS filter for managed service providers is the ability to totally customize the interface. Corporate logos and color schemes can easily be added to our white label DNS filter for managed service providers to match corporate branding.
DNS Web Filtering for Managed Service Providers Need Not be Difficult
DNS web filtering for managed service providers need not be difficult to implement and time-consuming to manage. WebTitan Cloud gives MSPs an opportunity to add a new revenue stream, increase client spending, broaden the appeal of their products and attract new business.
To find out more about how we work closely with managed service providers to meet the requirements of the SMB marketplace, download our brochure "TitanHQ MSP Program", which also explains how MSPs can become a TitanHQ Certified Partner with a dedicated Alliance Manager.
Our brochure expands on the features of WebTitan Cloud mentioned above and demonstrates how easy our DNS web filtering for managed service providers is to implement, configure and manage. It also explains more about our competitive billing strategies and how you can grow your revenue.

If, after reading our brochure, you have any questions about our DNS filter for managed service providers, please do not hesitate to contact us. Enquiries about joining the TitanHQ MSP Program or becoming a TitanHQ Certified Partner should be directed to Conor Madden at cmadden@titanhq.com.
Free PDF Download
WebTitan MSP Program
Related reading:
Security is the fastest growing service for MSPs
White Label Web Content Filter