DNS filtering for schools is far more effective and versatile now than it was when the Children´s Internet Protection Act (CIPA) was passed in 2000; when – in order to comply with the requirement "a technology protection measure" should be implemented to prevent students accessing harmful online content – schools purchased hardware-based filters that were complicated to configure and required frequent updating.
The complicated configuration and labor-intensive management of the filters often led to "over-blocking" educational online content. Indeed, one study in 2006 found the term "safe sex" was blocked between 33% and 91% of the time depending on the configuration of the filter, and that it could take more than a week for school districts to "whitelist" specific terms when requested. Fortunately, the configuration and management of school filters is much easier today.
The Technology behind DNS Filtering for Schools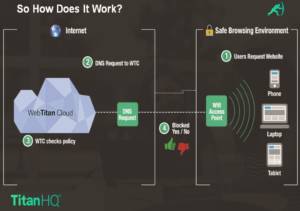 The basic technology behind DNS filtering for schools has not changed much since 2000. School filters still block access to harmful online content by IP address – rather than by domain name – because it is much quicker to match requests to visit websites against databases of IP addresses. What has changed is the way in which websites are categorized by their content and the ease with which categories can be added or removed from an Acceptable Use Policy.
Back in 2000, there were fewer than 20 million websites. These were typically organized into between eight and twelve categories by web crawlers looking for keywords in the websites´ content. Now there are more than 1.5 billion websites, organized into over fifty categories by machine learning algorithms. This difference in DNS filtering for schools gives system administrators a more refined choice of categories to apply with more accurate categorization of each website.
How DNS Filtering for Schools has Become Easier
Despite have more categories to choose from, the way in which categories are applied has become easier. Whereas in the early days of school DNS filtering, each hardware-based filter had to be configured individually, Acceptable Use Policies can be applied and adjusted with the click of a mouse from a centralized administration portal. Policies can be applied by grade or subject being studied, and specific terms whitelisted within minutes.
With some systems of DNS filtering for schools, it is not even necessary for administrators to get involved at District level. Once the basic Acceptable Use Policies have been applied, role based access controls enable exceptions to be applied at school level. This level of flexibility eliminates the issue of students being denied access to educationally-valuable online material, while still protecting minors from "inappropriate matter".
DNS Filters for Schools from WebTitan
WebTitan is a leading developer of DNS filters for K12 schools and offers a range of products to match school districts´ specific needs. Our school DNS filters can be installed as software solutions or cloud-based solutions, and configured within minutes to protect school networks from malware, ransomware, and phishing, as well as offering an effective and versatile means of complying with the Children´s Internet Protection Act and other state legislation.
All our DNS filtering for schools solutions are automatically updated, have SSL inspection (to filter the content of encrypted websites), and include a comprehensive reporting suite that gives system administrators total visibility over web activity throughout the network. With the customizable reports, administrators are able to view websites visited and attempts to violate Acceptable Use Policies – data that can help shape future Acceptable Use Policies.
If your current system of DNS filtering for schools lacks the effectiveness and versatility of WebTitan, you are invited to take advantage of a free trial to experience our solutions in action in your own environment. WebTitan solutions just take minutes to activate and configure – enabling you to control Internet access almost immediately with the minimum amount of disruption. Find out more – and request your free trial.