DNS filtering software is an off-premise Internet filtering solution that can prevent your network system being infected by malware and protects against other web-borne threats such as phishing. DNS based filtering allows organizations to proactively improve Internet security by blocking access to malicious URLs that host phishing forms or are used to distribute malware, with one of the best advantages of DNS-based filtering is there is no latency – Internet speed will be unaffected.
DNS filtering software is scalable, flexible, universally compatible, and can be configured to meet the needs of each organization via a web-based interface that can be accessed from any Internet-enabled computer. Not only does this enable organizations to enhance their online security, it also allows them to control what content their employees and guests can access.
Why Control Internet Access?
Organizations may want to control Internet access for a number of reasons. Scammers and hackers rely on the weakest link in an organization´s online security – their employees – for phishing campaigns and redirects to malicious websites to work. It only takes one employee to reveal their login credentials or one click on a spam email for the security of an entire network to potentially be compromised.
By controlling Internet access with DNS filtering software, organizations prevent employees from visiting websites that may compromise network security. These websites not only include locations known to be harboring malware, but those likely to contain risks and those that hide their true identity behind a proxy server. Few default antivirus solutions have malicious URL blocking or phishing protection of this nature.
Other reasons to control access to the Internet with DNS filtering software include:
The prevention of "cyberslacking". By controlling access to the Internet, and eliminating opportunities for online skiving, organizations can enhance productivity in the workplace.
Creating a better working environment. Prohibiting access to objectionable material such as pornography, racial hatred and religious intolerance, helps to prevent workplace discrimination.
The prevention of illegal downloads. Technically, employers can be prosecuted for copyright infringement if they fail to implement measures to prevent a known illegal activity.
Bandwidth control. By restricting access to video streaming sites such as Netflix and YouTube, organizations ensure there is sufficient bandwidth for everyone at all times.
The Most Practical and Easy to Use a Website Filtering Solution
For many organizations, DNS filtering software is the most practical and easy to use website filtering solution. It is deployed with the click of a mouse, auto-configures, and can be controlled from any location via a web-based administration portal.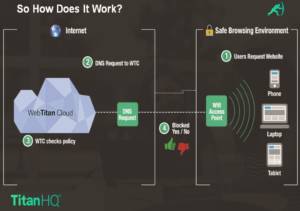 100% cloud-based DNS filtering software offers considerable cost benefits over hardware based solutions. There is no need to purchase any appliances, no on premise support teams are required, and the website filter software is updated by the solution provider so it does not add to the organization's patching burden.
DNS web filter software can also be deployed in a matter of minutes. Simply point your DNS record to your software provider's servers, login to your interface, and select the categories of website content that you wish to block. Once that is done, your network users will only be able to access the content that you want them to view. If a user attempts to visit a webpage that is not permitted by the DNS protection solution, the user will be directed to a configurable block page and will be told that the site cannot be accessed because it violates the organization's acceptable Internet usage policy. DNS blocking takes place without downloading any web content, which is more secure and saves on bandwidth.
Important DNS Internet Filter Software Features
Listed below are some of the most beneficial DNS Internet filter software features. Choose a web filtering solution with all of these options to avoid installation and management headaches, and ensure you have the maximum protection against Internet threats.
| Feature | Description |
| --- | --- |
| Category-based content filtering | DNS filtering software that includes category-based filtering controls will allow acceptable usage policies to be quickly applied. Category-based filtering can be used to block content such as pornography, social media websites, gambling and gaming sites with ease. These are the most common productivity-draining sites and the most frequently blocked. Category-based filtering is sufficient for most organizations to ensure all inappropriate website content is blocked. |
| Blacklists and whitelists | Support for blacklists and whitelists is important. Whitelists allow webpages to be allowed that would otherwise be blocked when using category-based controls. Blacklists are useful for blocking sites known to contain malware. The Internet Watch Foundation also supplies blacklists to block sites containing child pornography. |
| SSL/HTTPS inspection | Standard web filtering solutions can block access to unencrypted website content, but not all block HTTPS websites because they cannot read the encrypted content to see if it falls outside the filtering parameters. Choose DNS Internet filter software that incorporates SSL inspection to ensure that all website content can be inspected, assessed, and filtered if required. |
| Multi-language support | Some DNS web filter software blocks English language websites, yet cannot be used to block foreign-language sites and searches. Look for DNS web filter software that supports multiple languages to ensure content can be controlled irrespective of the language used on the site. |
| Anti-phishing and malware protection | Cybercriminals are developing increasingly sophisticated methods to install malware on corporate networks. Ensure DNS filtering software offers protection from malware, ransomware, spyware, adware and botnets, and includes an anti-phishing component such as SUBRL filtering for maximum protection. |
| VPN and anonymizer site blocking | End users can use virtual private networks and anonymizer services to bypass content controls. Ensure DNS Internet filter software allows VPNs and anonymizer services to be easily blocked. Some DNS protection services also include port bypass and IP blocking options are also important to prevent content control circumvention. |
| Active Directory Integration | DNS Internet filter software that integrates with Active Directory (or NetIQ/LDAP) makes it much easier to apply content controls for different user groups. Choosing a software solution that integrates with AD/LDAP/NetIQ will save a considerable amount of time when configuring web filtering settings. |
| White-labelled Software for MSPs and Resellers | If you are a Managed Service Provider planning to offer content control and Internet security services to your clients, there are advantages to choosing a DNS filtering software provider that provides their solution in white label format. It can also be beneficial to filter DNS within your own infrastructure or in a private cloud, although not all providers offer this option. |
DNS Filtering Software Pricing
In contrast to hardware-based web filtering solutions, DNS filtering software can be run on all operating systems. There is no need to purchase any additional appliances. DNS web filter software is therefore cheaper to implement. There is also no need to use on premise IT support teams. DNS Internet filter software can be installed, configured, monitored, and maintained remotely.
DNS filtering software pricing is typically license-based, with prices set by the number of users and/or TCP/IP connections required, the method of deployment (public cloud or private cloud) and the frequency of payments. This makes the solution cost effective for small to medium-sized businesses and involves little wastage.
Licenses can be purchased for a year, although longer term commitments will see the license cost per user reduced. It may be possible to save up to a third of the price by taking out licenses over a longer term.
DNS web filter software is much more scalable than hardware-based solutions. As a company expands, new licenses can be purchased. Since it can be difficult to predict the future, some companies – such as WebTitan – offer refunds on unused licenses if customers need to reduce the size of their workforce.
For some organizations, fitting the cost of DNS filtering software into budgets can be difficult. To make web filtering more affordable, some companies allow organizations to pay in monthly installments to make their solutions more accessible.
WebTitan Cloud: The Most Convenient and Easy to Use DNS Web Filter Software
WebTitan Cloud is a powerful 100% cloud-based content filtering solution that allows organizations to carefully control access to web applications and prevent inappropriate webpages from being accessed by network users.
TitanHQ has developed WebTitan Cloud to be quick and easy to implement and effortless to manage. Our DNS filtering software has excellent scalability and has been designed to meet the needs of the majority of small to medium sized businesses.
Key Benefits of WebTitan Cloud
No additional hardware is required to run our DNS filtering software
No software downloads are needed
Internet filtering settings can be applied in a matter of minutes
Category-based filters allow AUPs to be quickly applied
The intuitive, easy-to-use web-based interface requires no technical skill to use
All patches and software updates are applied automatically
WebTitan Cloud can be applied with no latency effects
Our DNS filtering software is highly scalable
There is no restriction on devices or bandwidth
WebTitan Cloud includes a full suite of pre-configured and customizable reports
Reports can be scheduled and instant email alerts configured
WebTitan Cloud is suitable for use with static and dynamic IP addresses
White label versions can be supplied
Three hosting options are available
WebTitan Cloud for Wi-Fi can be used to protect Wi-Fi hotspots
Your Opportunity to Try WebTitan Cloud for Free
If you are responsible for Internet security in your business, or you would like your business to experience the other benefits of our DNS filtering software, you are invited to contact us and request a free trail of WebTitan Cloud. Our team of Sales Technicians will answer any questions you have about filtering Internet content from the cloud and discuss your requirements with you in order to give you the best advice about achieving your objectives.
The free trial will give you the opportunity to evaluate WebTitan Cloud in your own environment and configure its parameters to achieve your objectives. Once you have found your optimal settings, there will be no need to change them again should you decide to continue using our DNS filtering software at the end of your trial. To find out more about this opportunity, do not hesitate to contact us today.

DNS Filtering FAQs
Are guest Wi-Fi networks secure?
If you want to give guest users Internet access, the most secure way is to create a guest Wi-Fi network. This will allow you to easily prevent guests from accessing company data and resources. You should lock down the guest network and restrict access to the web to what is strictly necessary using a Wi-Fi filtering solution.
Is content filtering for Wi-Fi expensive?
Content filtering for Wi-Fi networks is important for security and compliance but relatively inexpensive. Solutions are available that will give you precise control over the content that can be accessed while connected to the network and web-based threats will be blocked. You can expect to pay upwards of $1 per user, per month.
What are the most important guest Wi-Fi security best practices?
You should only allow your guest Wi-Fi network to be accessed by authorized individuals, so it is important to set a strong password. To protect against interception of traffic, configure your router to encrypt traffic – WPA2 or WPA3 are best. To protect network users, you should implement a web filter. A web filter can be used to carefully control and monitor the activities of guest Wi-Fi users.
Is it easy to set up web filtering on Wi-Fi networks?
With a cloud-based web filtering solution Wi-Fi filtering is easy. Point your DNS to the service provider and you can be filtering the Internet in minutes. The web filter can be accessed from a web-based interface from any web browser. Configuring the solution involves clicking on checkboxes that you wish to block.
Do web filters assess the content on encrypted websites?
In order for a web filter to assess the content on HTTPS websites, it must support SSL inspection. This involves decrypting content, inspecting the content to determine if user-defined controls permit the content to be accessed, then re-encrypting the content. This is important as most malicious websites have SSL certificates and encrypt the connection between the browser and the site. Without SSL inspection, this traffic will be invisible to the web filter.
DNS Filtering Topics