The best way to answer the question What is DNS blocking is by first explaining the Domain Name System – the method used to assign IP addresses to websites so browsers can find websites quicker. This system was developed even before the Internet existed – during the early days of the ARPANET network – so that computers on the network could be located by a number rather than a username.
As the Internet evolved, so did the Domain Name System. It now acts as the Internet´s telephone directory – connecting devices across the globe via numeric IP addresses must faster than if servers had to locate domains using alphanumeric characters. This not only has benefits in terms of connecting users to legitimate websites quickly, but also in preventing them from visiting malicious websites.
So, What is DNS Blocking?
When an Internet user enters a domain name into a browser (i.e. www.webtitan.com) or clicks on a link to visit a website, the Domain Name Server uses a look-up service to find the IP address assigned to the website. Before the Internet user is connected to the website, the IP address is checked against one or more databases of domains known to be unsafe.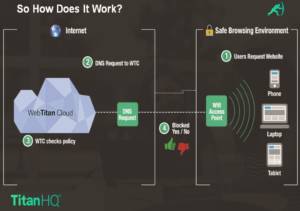 If the requested website´s IP address matches that of an unsafe domain, the user´s access to the website is blocked. Depending on the type(s) of database used, it could be because the target website harbors malware (adware, spyware, ransomware, etc.) or because links to the website have been reported in spam emails, and the website is a likely candidate for a phishing website.
The primary advantage DNS blocking has over any other type of Internet filtering is that it is fast. Internet users are rarely aware their browsing experience is being controlled unless they attempt to visit a malicious website and their access is blocked. A secondary advantage is that DNS blocking prevents users accessing sub-domains sharing the same IP address that might not be blocked by name alone.
Installing an Internet Filter with DNS Blocking
The most popular way to install an Internet filter with DNS blocking is to not physically install anything at all, but rather subscribe to a cloud-based Internet filtering service. The reason for this is because cloud-based services are more scalable and flexible than hardware or software solutions, and because they work by redirecting the IP address of the Domain Name Server.
Thereafter, the cloud service provider is responsible for software updates and ensuring the databases being used to block IP addresses are up to date. If you are using the Internet filter to protect a large network of users, the DNS blocking service can be integrated with backend management tools to apply Acceptable User Policies with the click of a mouse.
Smaller organizations will be able to take advantage of the web-based administration portal in order to create and apply web browsing policies with wide-ranging granularity. Policies can be applied by individual user, user-group, and universally; or by time, bandwidth, or keyword. It is also possible to create a branded block page that informs users why access to the requested website has been blocked.
WebTitan´s Cloud-Based Internet Filter
The WebTitan cloud-based Internet filter is an ideal DNS blocking solution for organizations of all sizes. In addition to offering best-in-class protection against malware and ransomware, our DNS-based web filter also prevent users from visiting phishing websites and non-work related websites that could hinder their productivity or result in workplace HR issues.
Both our WebTitan Cloud and WebTitan Cloud for Wi-Fi filters include a comprehensive reporting suite in order that system administrators can review web activity and identify attempts to circumnavigate the filter´s settings. Administrators can create time-limited Cloud Keys that override the filter´s settings, or create longer-term policy exceptions via the user-friendly portal.
If you would like to experience these levels of protection and versatility, we invite you to get in touch and request a free trial of the WebTitan service most appropriate for your needs. The trial gives you the opportunity to find the optimum settings for your specific requirements, so that if you ultimately decide to permanently use your WebTitan filter for DNS blocking, no further configuration will be necessary.

Frequently Asked Questions about DNS Blocking and Internet Content Control
How secure are guest Wi-Fi networks?
Guest Wi-Fi networks are created for security reasons to keep guest users away from the main business network. When setting up guest Wi-Fi you need to make sure that the same IT security controls are implemented as your main network, so a firewall and a web filter are important.
How can I secure my guest Wi-Fi network?
You should change the SSID of the network and ensure a password is set to prevent unauthorized individuals from accessing the network. You can then provide these to guest users who are authorized to connect. Also ensure you have a web filter enabled to enforce your acceptable Internet usage policies and the network is protected using the WPA2 or WPA3 protocol.
How finely can I control Internet access?
WebTitan Cloud has highly granular filtering controls. Filter using 53 pre-defined categories of web content, customize categories or create up to 10 additional categories using your own keywords for precision control over the content that can be accessed by employees and guest network users. You can also generate reports about the websites that have been blocked and set up real-time alerts.
Will a DNS filter protect remote workers?
One of the best features of a DNS-based web filtering solution is it can be used to control internet access for any worker, no matter where they are accessing the Internet. That means office workers, home workers, and employees accessing the Internet in coffee shops can be protected by the same cloud-based solution with almost zero latency.
Is WebTitan Cloud Easy to set up and use?
WebTitan cloud is intuitive and could not be any easier to use. Point your DNS to WebTitan and the solution can be set up in just a few minutes. The solution often gets top scores on independent review sites such as GetApp, SoftwareAdvice, and G2 Crowd for ease of setup, ease of use, and the level of protection provided against web-based threats.
DNS Filtering Topics